4 mins read
It's the most wonderful time of the year. And for retailers who are ramping up to meet the needs of holiday shoppers, it is an opportunity. Those who can provide an outstanding omnichannel shopping and customer experience (CX) have the power to build trust and loyalty by engaging and providing support throughout the entire buying journey.
Those channels and customer touchpoints are increasingly online, and through popular platforms and applications like WhatsApp.
Although e-commerce sales worldwide flattened last year, they are expected to reach about $6 trillion by the end of 2023. By next year, 21.4% of total retail sales will happen online.
Increased demand and holiday pressures – more customer service calls and support requests across channels – require simplified customer communications to ensure efficient operations and a seamless customer experience.
How to remain competitive while making the most of this festive season?
With more than 75% of shoppers hunting for deals and discounts this year, how can retailers remain successful in a competitive global market, and not miss out on the revenue opportunities of the winter holidays?
Retailers can start by addressing some of these questions:
What is your current online marketing strategy?
How are you using digital marketing to communicate your value proposition?
What channels do you use to engage with customers?
What is the level of consolidation of the channels used?
Are you missing any e-commerce opportunities due to channel limitations?
How do you leverage communications technology to improve your CX?
What technology are you using, and what is the level of integration with your other systems?
How cost effective are your marketing and customer support operations?
Using a customer engagement toolbox can help improve customer experience and streamline business processes by bringing all communication channels together. Orchestrating omnichannel global campaigns from one single platform can get costs down and simplify your outreach strategy during the season – as well as going forward.
Using a customer engagement platform for increased conversions and ROI
In the ever more digitally driven retail world, automation has proven to be essential for providing seamless service delivery across multiple channels through  SMS, WhatsApp, and more.
Here are some ways a centralized customer engagement platform can help guarantee consistent communication, service delivery enablement, and customer support so that you can boost festive sales for your retail and e-commerce business:
Maximize your conversion rates and ROI – Send reminders and real-time alerts to decrease abandoned carts, and steer engagement with limited-time promo codes.
Optimize campaign operations – Send high-volume campaigns to your global customer base in a timely and secure manner. Simplify your business communications strategy by consolidating your channels, and getting an end-to-end view and control of your campaigns from one single platform.

Leverage e-commerce opportunities – Reach customers on their favorite channels. Announce product launches or propose alternatives to out-of-stock items on any digital communication channels, from SMS and voice to RCS and WhatsApp.
Build valuable relationships with customers – Use personalization and campaign performance insights to create unique brand interactions. Email customers with alternatives to a returned item, or a complementary product after they've made a purchase.
Optimize your support services – Cut costs and optimize your agents' performance by reducing inbound queries with automated delivery notifications, and the use of emerging technologies such as chatbots and IVR.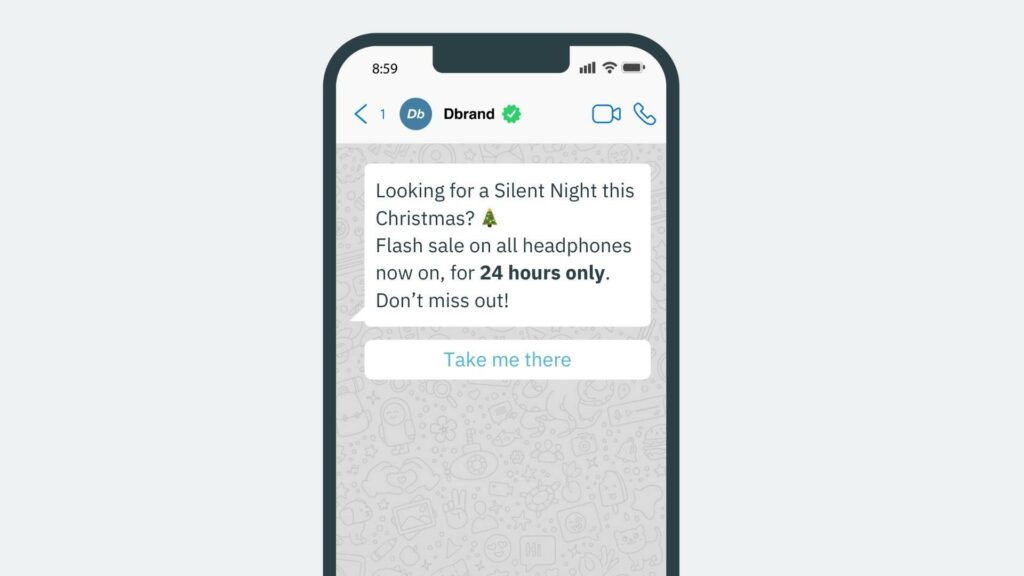 Takeaways for global retailers this holiday season
As well as those who were already shopping online, customers who traditionally shopped in person have also become used to buying products online, and are looking for tailored, simple e-commerce experiences. Businesses need a comprehensive, global solution to meet customers' demands for personalization, and seamless communications.
How, where, and why brands interact with shoppers has also become key to how a customer rates their experience with them – and providing great overall CX is essential to nurture loyal customers and healthy brand relationships.
Like any relationship, you need – and most importantly, your customers expect – effective and transparent communications, the kind that an effective customer engagement toolbox can seamlessly integrate into your business via APIs and plugins, among others.
Why BICS MESO® for retail and e-commerce?
BICS MESO® for retail and e-commerce runs on our fully owned global network, which enables retailers to reach your customers anywhere in the world in a secure and reliable way – ultimately building customer trust and loyalty. Our comprehensive Campaign Manager allows you to orchestrate global campaigns without writing a single line of code.
Retailers can make complex communication flows seem simple through one of the most comprehensive solutions on the market, which allows you to easily:
Increase customer engagement

Turn one-way campaigns into two-way communications with voice, RCS, OTT platforms, SMS, SIP Trunking, and more
Let customers contact you from their preferred channel: WhatsApp, email, live chat, SMS
Encourage brand loyalty with real time alerts and push notifications to promote special discounts, limited time offers, free shipping, flash sales, giveaways, or coupons

Reduce churn and secure operations

Provide an extra layer of security with two-factor authentication (2FA) via OTP delivery, verification codes, and transaction confirmations
Increase convenience with password updates and password-less logins
Protect retail customers with anonymous communications (number masking)

Increase the sales pipeline

Launch and manage effective multichannel campaigns from one platform: web chat, WhatsApp, SMS, email, voice
Create personalized campaigns based on the customer's unique journey
Decrease call-handling times with chat and voice bots
Is your retail and e-commerce business ready to deliver better experiences to your customers this holiday season, no matter where they are, or what stage they're at in their purchase journey? Talk to one of our experts to find out more about BICS MESO® for retail.